Gulf Coast Bloggers (formerly Southern Bloggers Jubilee) is a group of Alabama bloggers who meet in Baldwin County, generally in the Fairhope area, once a month on the first Tuesday. We talk "blog" and then, some of us usually get together for lunch after the meeting. Here's a link to our new website Gulf Coast Bloggers.
If you are a blogger, or want to learn more about blogging before you jump in, we would love to have you attend our meetings.
To learn more about the group, please contact Kim of CoziNest
, our founding member.
Our Old Name and Button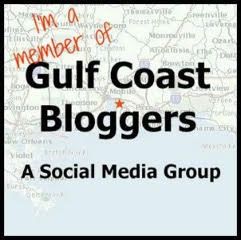 Our New Button
My blog posts on some of our recent meetings...
Here are links to some of our member blogs:
http://www.cozinest.net/
http://linda-coastalcharm.blogspot.com/
http://fairhopesupply.com/
http://www.craftyhope.com/
http://thepaintedapron.com/
http://clamco.blogspot.com/
http://professorstorytime.com/
http://stumpthelibrarian.com/
http://livingwiththanksgiving.blogspot.com/
http://www.flower-child-designs.com/
http://eatbeatblogger.blogspot.com/
http://www.marjoriesearcy.com
/
http://reclaimyourtrueemotions.com/