To everyone who was looking for a Fab Fashion Friday post yesterday, it didn't happen. I was so busy with other things that I just ran out of time. I normally try to write my posts early and set them to publish at a certain time, but the entire week was so busy I just didn't get around to it. Look for me to catch up on the fashion posts next week.
While I was out yesterday getting the car serviced, I stopped by a couple of thrift stores and yard sales...and I did find a few nice little treasures that will go into the shop next week.
Let me share them with you in pics.
This is my favorite, most unusual, find of the day! It's a wooden screw that goes into the block of wood at the bottom. It was some sort of press- probably used on a farm or in an industrial environment somehow. I thought at first that it was a grape press, but it isn't quite right for that, so I'll leave it up to you and your imagination to figure out what it was. Right now, I'm showing what a wonderful jewelry stand it is! This is how it will go into the shop. I've got some jewelry that I've been trying to get inventoried, priced and tagged. Finally got the jewelry ready, so it's all ready to go now. Don't you agree that it's a great jewelry display stand? It would also be just a great architectural/industrial fragment to use for display and it's sure to be a conversation piece!
See the plates in the bottom right-hand corner? Well, some of you (if you're as old as I am!) will remember "back in the day" when airlines used to serve real food on the longer domestic flights...these days you get a pack of peanuts or pretzels and maybe a drink. Delta Airlines used to serve the best food, if my memory serves me correctly. These dishes are the ones they used! They are marked on the back with various different pottery names, but they all indicate they were made for Delta Airlines, as well. White ironstone, with some airline history...how cool is that? Here's a better pic...
I also found a great trestle table. It's a real one with the pegs that knock out of the legs, so someone should snatch it up in no time. I still have to go pick it up. We were going to get it today, but we've had more rain this morning and again this afternoon, and I don't want to risk getting it wet. We will go pick it up tomorrow morning.
It's similar to the one in this pic: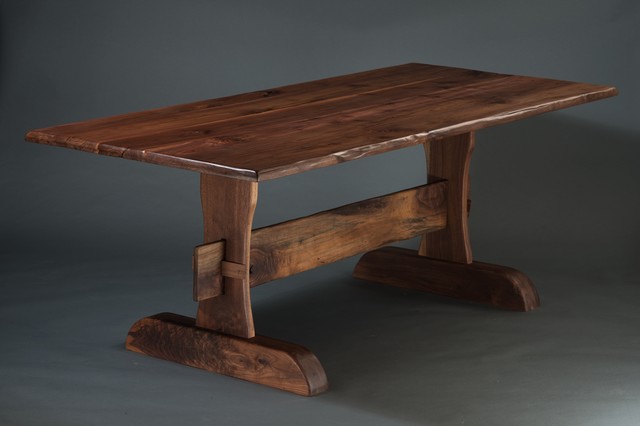 Via Houzz.com
And, last but not least, I found a set of six windsor chairs. They are in great condition, and just need to be cleaned up. I am thinking about painting them...maybe turquoise? That seems to be a popular color here along the coast. I actually have turquoise chairs in my own home and they have been a bright and happy addition to our decor! I found a pic online that shows them painted in various different colors...What do you think?
Via designskool.net
I found some other small treasures too. It was a pretty good day for pickin' along the gulf coast.